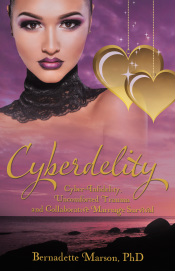 An exhilarating romance novel, with compelling scenes, heartbreak, love, intimacy, jealousy, trust, passion, trauma and marriage survival.

About the book
In Cyberdelity, Kerrie became a very lonely woman when her husband was called for active duty in the military. Starving for love, affection, intimacy, and attention she tried desperately to fill her love tank. Foregoing traditional dating Kerrie decided to explore online dating where her affairs began. Using the profile name Cyberdelity, she found herself on an emotional roller-coaster from one failed cyber relationship to another and crisis after crisis. Kerrie quickly changed from a passive woman to an angry and revengeful woman. Her anger led to her arrest followed by a suicide attempt.
During her psychiatric hospitalization, Kerrie's husband Jeff, took a leave of absence and returned home to be at her side. It didn't take long for Jeff to realize that Kerrie was not the faithful wife he left behind. Unknown to Kerrie he was able to follow her every move when he returned to his tour of duty.
Throughout, Kerrie was discreet with her cyber infidelity. Or at least, so she thought. As her depression increased so did her alcohol abuse. She felt powerless. Wedged in an alcohol syndrome Kerrie was forced to seek mental health treatment. There she revealed her traumatic childhood and well-kept secret.
Soon after Kerrie found out that she was pregnant. Then, the unthinkable happened. Jeff returned from his deployment with the scars of the war deeply embedded in him. Post Traumatic Stress Disorder took over his life. Their marriage was heading for devastation UNTIL!
Be the first to order your copy. Rest assured you that it would be a good read. Not only a good read for the avid reader but also for practitioners and students because it is filled with issues of anger, trust, trauma, disassociation, denial, repression, guilt, shame, powerlessness, fused feelings, hypervigilance, emotional numbness, depression, anxiety, sexual abuse, domestic violence, victimization, empowerment, sexual dysfunction, and the effects of combat.
These are just some of the many riveting experiences of Kerrie and Jeff. Each chapter is filled with fleeting romance and multifariousness. You will not be disappointed!

Don't forget to order your copy today!






















---